[This is not one of our own posts, but a magazine produced by a group of which we are a member. We hope you find some of the stories interesting.]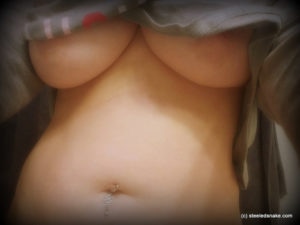 Photo courtesy of Steeled Snake
The only place where the smartest and hottest sex bloggers are featured under one roof every month. Whether you're looking for sex journalism, erotic writing, relationship advice or kinky discussions it'll be here at Elust. Want to be included in Elust #93 Start with the rules, come back April 1st to submit something and subscribe to the RSS feed for updates!
~ This Month's Top Three Posts ~
~ Featured Post (Molly's Picks) ~
"One Man Is Not Enough For You."
blink
~Readers Choice from Sexbytes ~
Safewords in Kink Life and in Kink Fiction
Erotic Fiction
Erotic Non-Fiction
The good girl pledge
Good Boy
From Headache to Clit Ache
Daytime: A married Valentines fantasy
Unlocking the Man…with Pieces of Me.
Thoughts & Advice on Kink & Fetish
Three's Company
I hate the "One Size Fits All" approach
Safewords in Kink Life and in Kink Fiction
How great would it be if…
Poetry
Roadside Stand: A Lusty Limerick
Sex News, Opinion, Interviews, Politics & Humor
Events
Looking back at our Eroticon Weekend
Thoughts & Advice on Sex & Relationships
Waiting and waiting and waiting